PROMOTING THE RELEVANCE OF LIVING FOR CHRIST IN TODAY'S WORLD.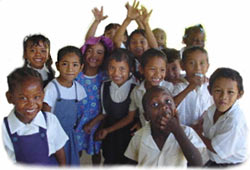 PURPOSE: Accomplishing Christian Ministry that reflects living for Christ, day by day.
MISSION:Educating, training and caring for children in need, body and soul; teaching Christ-centered principles, enriching the heart and mind, inspiring the spirit to thrive and achieve.
VISION: Living daily to glorify God, experience His love and encourage each other.
BECOME A PARTNER IN THIS MINISTRY TODAY!
Home | Village Community | Children's Ministries | Short-Term Mission Teams | Statement of Faith | History | Longest active missionary | About Belize | Make a Donation