Millhollon Memorial Tabernacle

Founded in 1957, the church remains a spiritual life force for the Ontario Village community and neighboring villages. In 1982, the church was renamed Millhollon Memorial Tabernacle as a memoriam to the founder, Rev. Thurman Glen Millhollon.
We are not a typical third world church, where the church functions outside the community, ministering to believers. Instead, our church is at the very center of community life. We go beyond simply ministering to believers; we teach believers to minister within their own community.
Ontario Christian School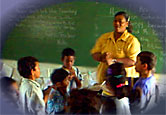 The school was one of the first endeavors birthed from the vision of our founding missionaries, Rev. and Mrs. Millhollon. Mrs. Millhollon started the school on the Church platform, with one teacher assistant and a few children from the village, in the original church building. They named the school Ontario Christian School after the school the Millhollons founded in Ontario, California
The fledgling school quickly outgrew the church building and a two-room building was constructed next to the church to accommodate the overflow of students.
Today Ontario Christian School has grown to 12 classrooms, including a pre-school, and an enrollment of nearly 300 students. Under the leadership of Mr. Trevor Guerra, Principal, the school has become recognized as a standard for educational excellence.
Millhollon Children's Training Home

The Children's Home was by far Thurman's and Reba's most challenging yet rewarding endeavor. It was their dream to provide a home that addressed the needs of children who had no-one-else. Their goal was to provide a safe and secure environment where children could grow and become productive, independent individuals. The Millhollon's approached their dream with an unwavering faith in God to meet every need and began to address the physical, spiritual, social, and mental needs of children without families. The dream became the Millhollon Children's Home a reality for children in need.
Unforeseen, however, was the sudden death of Rev. Millhollon on September 27, 1981. Grief stricken but determined, Mrs. Millhollon continued to build the Children's Home. Until her death in 2001, Mrs. Millhollon, affectionately known as Mother, was the driving force in bringing the mission work to where it is today.
The Millhollon Children's Home served both boys and girls of all ages for many decades but was closed permanently in July of 2009.
Home | Village Community | Children's Ministries | Short-Term Mission Teams | Statement of Faith | History | Longest active missionary | About Belize | Make a Donation